First, buy a duelling ring (8) (obtainable from ring & amulets & gloves shop at the Market Place) and use it to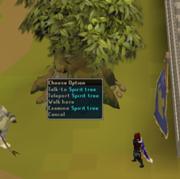 teleport to Mobilising Armies. Walk a little north and there will be a Spirit Tree at the entrance, teleport
using the spirit tree to go to the main spirit tree, from there go to tree gnome stronghold, there you will
find the agility course, you will need to do this till level 35. 
At 35 you will then need to buy a games necklace, this can be bought from a shop at Market Place, to buy one
you go to market place > gloves & books. You will then need to go to barbarian outpost by using the games
necklace, you will then walk north till you see the agility course, you will do this course till 52 agility.
Once at 52 you will then go to the wilderness course, you can get here by going to Dream Mentor > others > mages
bank, once there you will walk to the wilderness course (Look on your map to get here) you will then do this to 85, i
reccommend bringing a bit of food here incase someone tries to kill you.
After you have achieved 85 Agility you will go back to the tree gnome stronghold (see part 1) and do the advanced
course, this is different to what you was doing at level 1, you will do this till level 90.
At level 90 you will go to your last course! you will be going back to the barbarian agility course (see part 2 on how
to get there) this is the advanced course where you will finally get your 99! 
Congratulations on 99! Now go get that amazing cape! :D 
See More